I am in Leavenworth right now, and just had a great time climbing
'Acid Baby'
, a grade III 5.10d route on Enchantment peak with my friend Pete Hirst. It was 900' or so of steep 5.10 cracks shown on the peak in the photo. Really fun, and probably only climbed a half-dozen times. The final pitch involves a long hand traverse along the crest of the wild and steep fin, visible in the photos as this climb's summit.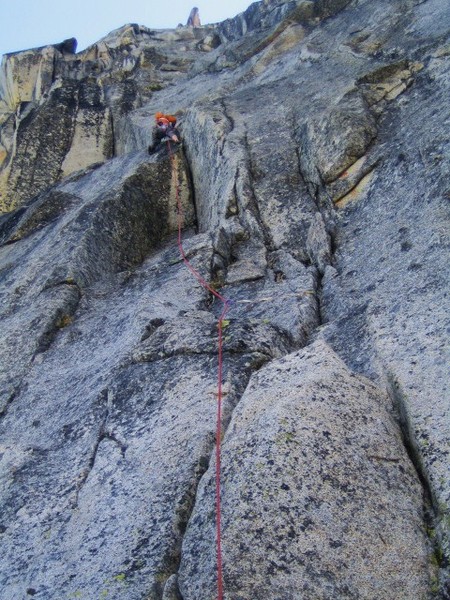 (
Photos from friends who recently did the route)
It starting storming on us during the descent hike, but fortunately we stashed our packs and gear up there for another alpine day-trip tomorrow, so we had nothing on our backs and could trail run the last few miles to the car while getting soaked.
This route was likely climbed by a party in the 1980s, but basically went unreported or unrepeated and faded into obscurity, which is too bad, because it is so much better than a lot of other more popular climbs, and fills a good gap between easy routes, and the 5.11+/5.12 routes. While hiking up, we came across a water bottle left by two buddies who had just made the first free ascent of the route
Dragons of Eden
on Dragontail peak, which clocked in at 5.12- with several 5.11 pitches as well.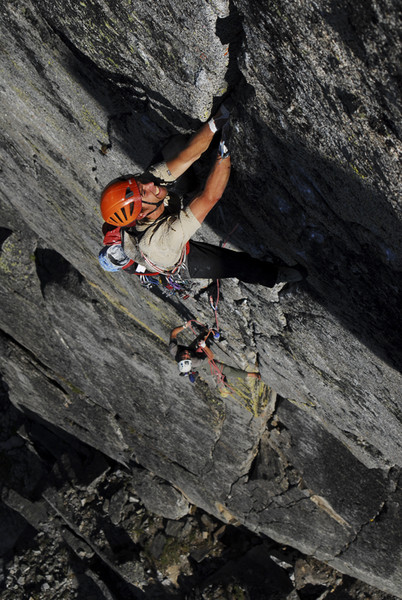 Picture taken by Max Hasson
, don't steal it.
Additionally, someone recently scrubbed and worked all the pitches on
The Tempest Wall
, a route put up by myself and a friend last summer. He free climbed all sections of the route at various times, and said the big roof pitch went at 5.12c!
A continuous free ascent of the wall awaits. Pretty cool time to be climbing in the Central Cascades!