A couple summers ago, my friend Sol Wertkin and I climbed the 2nd route on the peak "Colchuck Balanced Rock" in the Central Cascades. The area was our "good weather" bail option, after the west side of the mountains was engulfed in a storm. However, the storm reached across the range and we ended up climbing through intermittent precip and winds on our route. We named this climb "The Tempest", and we couldn't believe how good the rock was, and how continuous the cracks were. Although we aided much of the route, its potential as a stellar freeclimb struck us as obvious.Occasionally, it's nice to be right.
Last week, Ben Gilkison and Andrew Philbin made the likely first free ascent of the Tempest, by climbing from ground to summit, and onsighting or redpointing each pitch as they moved up the mountain. Both Ben and Drew had a no-falls day, placing gear on lead in the style required of a first ascent. Ben had previously been on the Tempest for a day last summer,
when he and I were climbing the route together
. On the same trip to this cirque, I'd lead the whole route while climbing with Sol, both of us easily aiding out the roof on pitch 2 and enjoying the softman version, a 5.11 freeclimb with 20' of easy aid.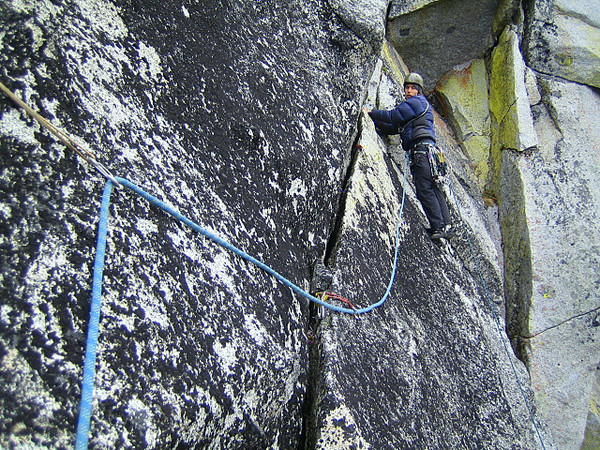 Hand traversing into the 5.9 corner (Pitch 3) on the balmy first ascent.
In the American Alpine Journal Sol and I had (presumptuously of arrogantly) predicted "If freed, the route is a good contender to emerge as one of the Cascades' best and hardest alpine rock climbs." The verdict from those who've done it is that we weren't exaggerating. We'd thought that the 2nd pitch roof would be around 5.13-, and the upper headwall 5.11b. We rated a long corner in the middle of the route to be 5.9++. They ended up going at 5.12d, 5.11, and 5.10a.
Drew Philbin on the 5.10c layback atop pitch 1.
In the one-and-a-half summers since our climb, 3 or 4 more routes have all been added to this peak, featuring excellent stone and climbing.
It is awesome to see traffic on these new routes. Congrats to Ben and Andrew on their ascent.