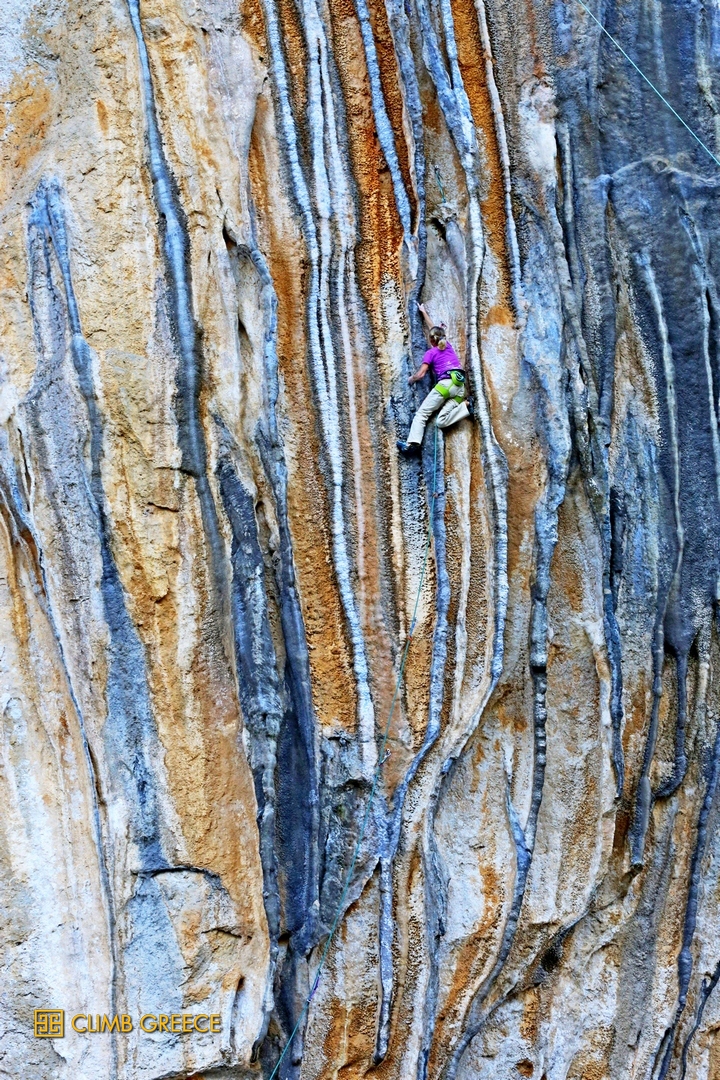 Tufa madness of Leodokardos at Babala. It's like a kneebar/pinch 201 class.
I recently spent 3 weeks on mainland Greece, climbing in the newly developed areas of Kyparissi and Leonidio about a 4hr drive SW of Athens. There was a fair amount of recently posted info on Leonidio online, mostly from European sources, but quite a bit less of Kyparissi. I have read, enjoyed, and benefited immensely from travel blogs in the past and figured our experiences there would be of benefit to others planning trips. I was with an eclectic (skills and motivation-wise) group from the northwest, so we ended up sampling quite an array of walls in the area.
General Greek Travel/Culture
We spent nearly all our time in small towns and villages and the people of Greece, even in town now being semi-overrun by infusions of (mostly europe) clown-pants looking goofy climbers, are some of the warmest, most welcoming, and patient people I've ever met.
The environment (natural) along the beaches, forests, and crags, was very clean and there was much less trash and human impact than most crags I've seen in Spain and most beaches in the USA.
Prices for lodging and food are very cheap relative to the USA and Canada. We had private apartments in small towns and/or adjacent to beaches for $25-$35 a night.
I had no idea how much climbing amid diverse landscapes exists in Greece. After reading various guidebooks and travel book I'd love to visit Crete and some of the inland Crags northeast of Athens.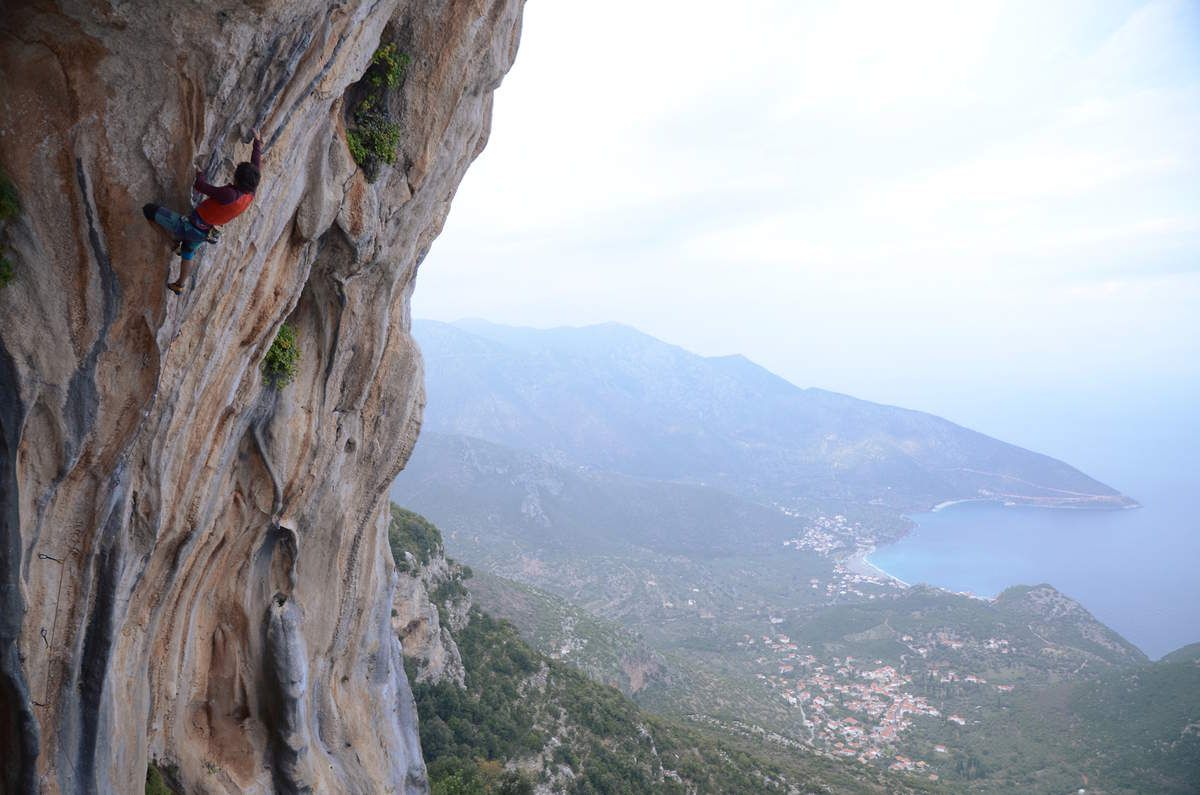 Carpe Diem (8a) Babala Wall Kyparissi
Leonidio itself had a huge number of fairly moderate European climbers. Most of the walls face south/ish. That combination made it difficult for the newer or more moderate members of our group to find walls to go to. There was often a hurried or stressed vibe at the walls due to crowds and/or short time periods before or after the sun.
After now 4 trips to Europe for limestone sport cragging, I've never really seen climbs or a wall with climbs under ~7a+ (.12a) that I though was worthy travelling for. Most of the routes in that grade seem legitimately bad. I think granite or gneiss generally produce better 5.10 and 5.11 sport climbs than limestone.
It was definitely too hot to climb in the sun in November.
Of all the walls around Leonidio, the only truly "great" (and I don't use that standard lightly) sectors with at last 6 excellent travel-worthy routes were: Elona, Twin Caves, and Nifada. I heard mixed but at least some good things about Limeri and H.A.D.A. but I didn't get the impression that either really compared with excellent walls one might encounter in Spain.
At Elona climb "Kopa Cabana" (.12+/.14-), at Nifada climb "Forever Wings" (5.13) and at Twin Caves climb everything on the left side of the amphitheater.
Overall I'm not sure of the ideal climber for a visit strictly to Leonidio. I think it would be a group who highly valued beach access (5 min drive), cute town elements, and didn't mind some crowded cragging with a lot of variety and hopping around from wall to wall to wall different days.
Our group thought probably the best wall in the 5.11 and low 5.12 range was Jupiter, which faced due north and had millions of pockets, with most climbs in/around vertical. It was great but not typical Euro limestone.
Kyparissi - This tiny town about 35k (and 70min drive) south of Leonidio had far fewer people, higher quality climbing, and mostly harder routes than Leonidio. All of these factors made it less crowded. The beaches were stunning and most of this climbing was very shaded in November. It could be a good spot for climbing even in Apri, May, or September.
The "Watermill" wall is practically in the town of Kyparissi itself, and is good but quite small. It basically has 6 good put not great mid-length climbs, all a little soft, in the 5.12/5.13 range. It's a nice diversion but not destination worthy.
Babala wall is definitely the best wall in the region. It faces ENE and sits ~2000' above the coastline, reached by a 15 minute drive and 40 min hike from Kyparissi. The wall has endurance marathon climbs on tufas and pockets. There are probably more truly excellent 5* routes at this wall than all the other walls within 60 miles. The climbing mostly starts at .12+/.13-. Every route I tried or did there was good to great so I recommend anything there. If you want tufa madness of crazy kneebars and pinches, "Leodokardos" is described in a guidebook as justifying a trip to Greece on its own. For something with steep pockets and power moves, check out Carpe Diem.
Babala Wall
More Babala wall